Brainbit is a high-technology hardware company founded in 2015 and based in California. We gathered 30 years experienced specialists to our team that are mad of electroencephalography and electromyography, artificial intelligence, and love what they do. Young team with experienced leadership and a great future.
All these years we have been creating high quality EEG, EMG and Neurofeedback solutions for different companies all over the world. We are doing many R&D projects depending on the needs of our customers including developing various integrated solutions - VR, smart clothing, and various devices as we measure different indexes. We find it exciting to work on AI and Big Data collection.
Our team includes neuroscientists, electrical engineers, medical grade specialists, university professors, industrial designers, software developers and professionals who want to make a difference in people's lives. Our geography has no limits. We're working to turn our passion for EEG technology into a booming hack for every person who wants to upgrade their brain.
We're a fully distributed team of 58 people living and working in different places around the world. Our team is focused on the product and service quality. Every person is working to build the best products to help our customers enjoy their success in health care, brain activity and mental health.
Our Mission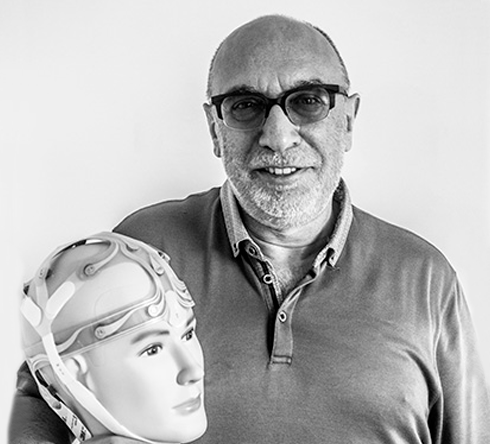 Our Mission
A healthy lifestyle is what drives and inspires us to create devices that serve as faithful assistants to everyone who is responsible for their physical and mental well-being. We enjoy to see how people improve their mental and physical health. This provides us with greater energy for future development.
To help people to live their best versions of lives with a clear mind, happiness, and health due to spreading neurofeedback and EEG technology in all areas of human life.
What we do
We instantly became passionate about helping people and creating innovative devices. Our team develops and produces medical and non-medical equipment, high quality wireless EEG, EMG, and ECG solutions, and multifunctional software for electrophysiology.
For 30 years now the team was R&D part of different companies working in the market of specialized devices, creating equipment for professional medical use. Now we started BrainBit to develop consumer devices that help people take care of themselves. We work intensively on both B2B and B2C projects.
We are good at multitasking and complex cases with our partners and do it with great pleasure. We already have experience working with completely different partners in polar dissimilar areas - sports, music, health, psychology, meditation, virtual reality, astronautics, education, and creating solutions for them for various kinds of problems.
If your company needs a special EEG, EMG or ECG software or hardware solution, if you have spheres which we have not covered yet, let us know, and we will try to meet your business' needs by developing a solution specially for it.